Start your 14 day free trial today!
Junk hauling is about as down-to-earth as a business can get, but that doesn't mean you can or should ignore your web presence. Any successful business these days needs to have a professional website that's well maintained and up to date. The problem is, most small business owners aren't also web developers, and they shouldn't have to be.
That's where we come in.
We understand that you may not have the time or the expertise necessary to design your site - so let us do the work for you! The JTR team knows what it takes to build and run a website. We've been doing it for years, and the junktrashremoval.com domain is just one of our success stories. Our team will handle everything from the design and coding to keeping the platform updated, all for one small monthly fee. If you haven't established a web presence for your business yet, it's time to get started!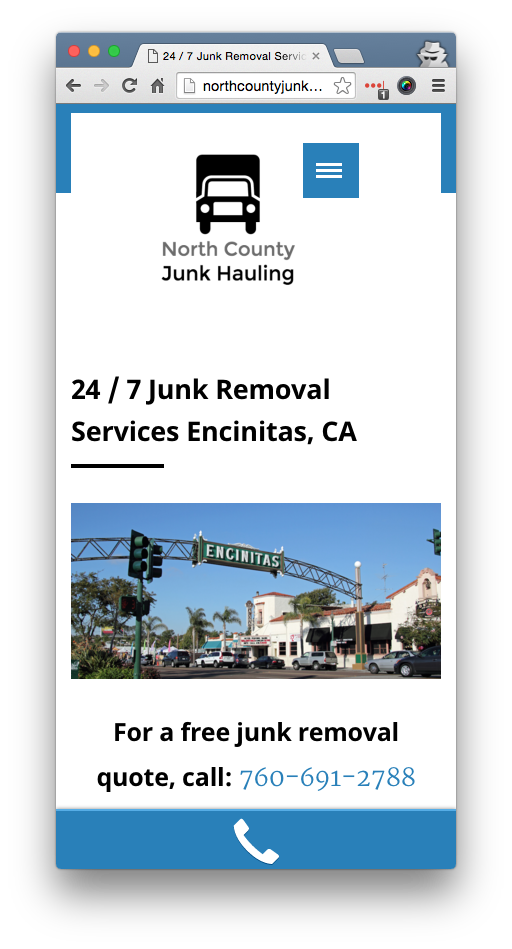 Here's what we can provide for you:
A professionally designed website optimized for mobile devices, and targeted towards customers looking for junk removal services
Three to five primary pages, with the ability to add more later, with search-engine-optimized content
Ongoing site maintenance, backups, and updates
Up to five @yourcompany.com email addresses
Basic logo design
We use WordPress as our site-building platform because it offers the perfect mix of quality and ease-of-use. We've been using WordPress to create and manage websites for years, and these are just a few of the reasons why:
It's open source: A wide variety of easy-to-use plugins to improve your site
There are thousands of design choices: We can find the perfect theme for your brand
It's easy to optimize: In-house tools for SEO make targeting your audience simple
WordPress scales better than any other platform: Expand your pages, add eCommerce, start a forum, all at your own pace.
Junk Removal Website Pricing
Local Pro Website
$49
Per month billed annually or $69 month to month
Professionally Designed Website
5 SEO & mobile optimized pages
Free Custom Domian
Two business email addresses
Ongoing backups
Customer feedback form
Click-to-call feature
Rank tracking app
Trusted Pro Website
$99.00
Per month billed annually or $129 month to month
Professionally Designed Website
10 SEO & mobile optimized pages
Free Custom Domian
Two business email addresses
Ongoing backups & updates
Online booking
Customer feedback form
Click-to-call feature
Rank tracking app
Elite Pro Website
$149.00
Per month billed annually or $189 month to month
Professionally Designed Website
20 SEO & mobile optimized pages
Free Custom Domian
Two business email addresses
Ongoing backups & updates
Online booking
Customer feedback form
Click-to-call feature
Rank tracking app