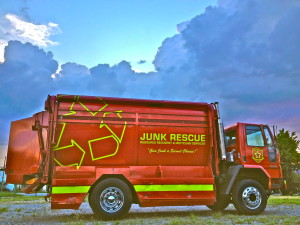 Junk Rescue provides sustainable junk removal and recycling service to residential, commercial, and institutional properties throughout Charlotte and the surrounding metro areas.A family owned and operated comapny, Junk Rescue's mission is to reduce the increasing amount of waste being put in landfills by reusing and recycling. Service offerings include recycling dumpsters, curbside collection, property cleanouts, and even junk sales on the last Saturday of every month! They also provide resources on how to recycle various items such as electronics, mattresses, and large appliances.
For an environmentally responsible and forward-thinking approach to junk removal, contact Junk Rescue today! Truckloads are typically based on 14 cubic yards and up to 2,000 pounds of trash. Rates usually include dump fees provided the junk removal is less than 2,000 pounds. Junk removal is offered 7 days a week throughout Charlotte and cities within Mecklenburg.
View a complete list of landfill and recycling locations in Mecklenburg County to find location near you.
---
Charlotte, NC - Local Junk & Debris Haulers